Oregon Rural Health Association ACTION ALERT   The Rural Practitioner Tax Credit will sunset if the 

Tax Credits Committee does not pass SB 178
The Joint Tax Committee has still not agreed to hear SB 178. 
If you want to save the Rural Practitioner Tax Credit, you need to act today!
Let your legislators know why 

this tax credit is important to you
and your community and ask them to continue it.
---
OOPA is the only statewide advocacy for Optometry in Oregon.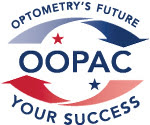 If you lose just one patient per month to online refractions or frames, is it worth $100 per month to invest in protecting your profession?  
Please join your peers in investing in OOPAC so we can educate legislators on the critical primary care Optometric Physicians provide in Oregon.